Parallax: Duncan MacDonald & Arnold McBay
February 2015
Grimsby Public Art Gallery.

Four years in development, the Parallax exhibition will be the culmination of ongoing interests, experiments and discussions between Duncan MacDonald and myself and will be curated by Rhona Wenger of the Grimsby Public Art Gallery. My efforts in this project have focused on widening my range of activity past/beyond drawing (as well as expanding my drawing practices) to embrace installation, video and collaboration in a more substantive manner.
Outline:
The conceptual focus of our exhibition is based on a simple enculturation and naturalization process:

A piece of broken glass washes upon a shoreline - originally (largely) sand, re-purposed as a utilitarian object, discarded; time, erosion and repetitive sandblasting return it to its natural form.

Parallax aims to explore this simple but complex self-reflexive set of material and active processes; form evolves over time; time is in itself materiality. Glass is the conceptual glue that holds this two-person show together. A translucent, almost invisible substance, glass is simultaneously something and nothing. Perspective, perception, phenomenology, and poetics collide in what we imagine to be a collection of artworks prompting viewers to re-consider the function and magic of the senses.
Preview of work:
My current activities feeding into this project cut across a number of different methods. For the most part they are all focused on the use, reading, interpretation and responding to found objects. These works (re)construct the ordinary objects (and moments) that litter our lives, building them into something different. The aesthetic is conflated with the conceptual and vice versa.

Three dimensional works ~
The main works that have driven this project are the large number of glassbox sculptures utilizing found antique glass plate positives and negatives (click HERE to view a gallery of these works). These works function well as individually discrete works, however I believe that the combination of these works within a larger presentation/installation will be the likely end result of these works. Beginning in 2010, these works have driven all other experimentations in my studio from a small video projection installation to my recent drawings utilizing oilstick, ink etc. on glass. Below are a few examples of these items currently in development.

Video ~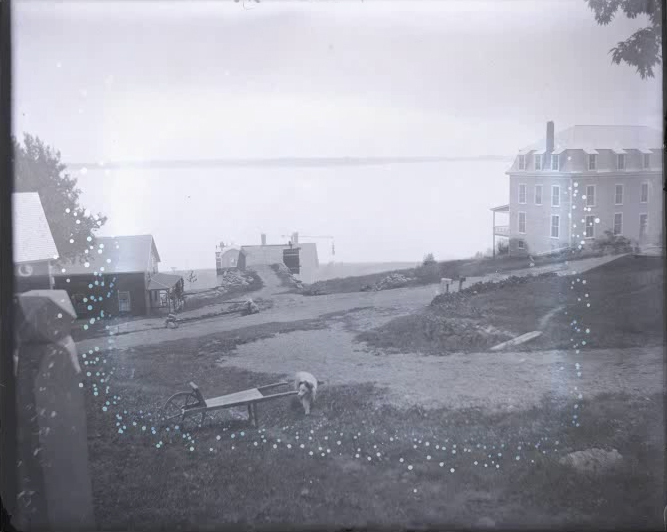 The image above is a still from a clip of the video being created for the video installation. To view the video clip please click the above still. This video features reversed positive versions of all of the glass plate negatives used in the manufacture of the glassbox sculptures. Initially intended as a didactic addition to the exhibition the video evolved through the use of video transitions and a unique multiple reflected projection format into an installation component of the exhibition.

Experiments in drawing ~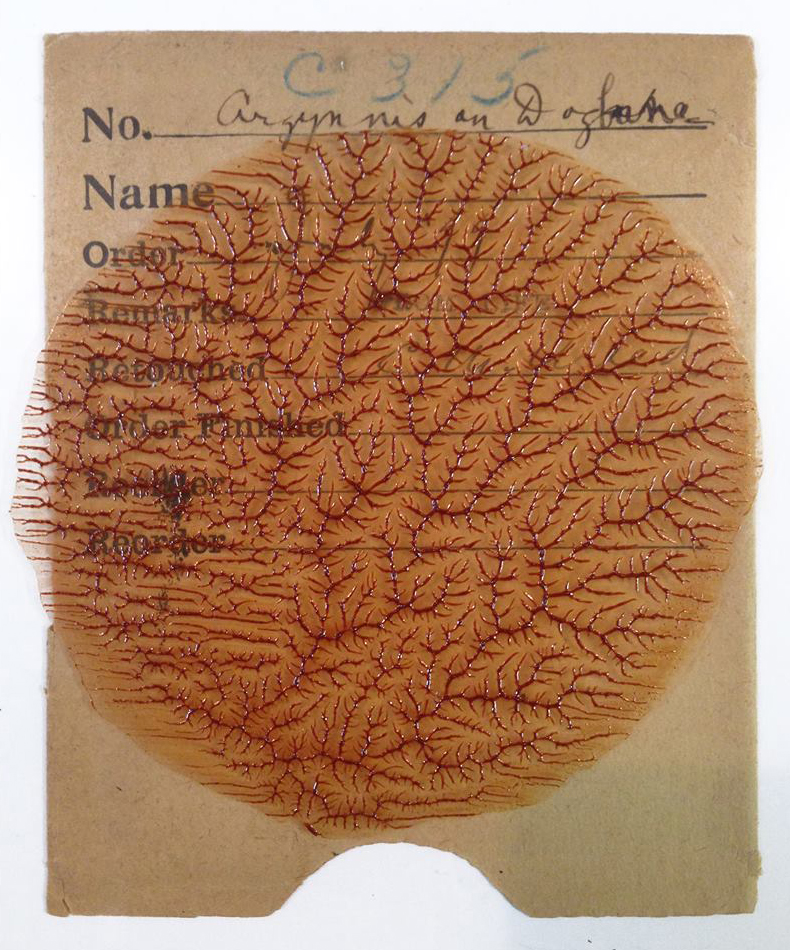 While my original intent for this exhibition was to eschew entirely any aspect of drawing I eventually realized that small components of drawing would serve a vital role in the success of the new installation projects. These experimental drawings utilize oilstick, ink, letraset (possibly) on glass layered over the original antique sleeves that many of the glass plate positives originally came in.

Something new, and something old ~
One familiar note that returns in this exhibition will be my revisiting the use of free-verse text. It was a semi-regular habit of mine a decade and a half back to incorporate spontaneous free-verse texts in(on) my plaster relief panel sculptures. These brief texts riffed on a number of different themes, some universal some highly personal. I've found myself once again feeling the need to put pen to paper (actually finger to key) and record my thoughts as part of my artistic practice. While these texts have usually manifested themselves on plaster panels I believe they will most likely appear on glass or another alternative surface. I'm not normally so dark or pessimistic, but given the current state of world, continental, national, provincial and regional affairs I felt the need to vent my sadness and frustration. In celebration of foul politicians, endless wars, inescapable and sudden violence, genocide, hatred, the impossibility of learning and the off chance that we are doomed...here is an un-edited example of one of the texts.
Ghost ships
(A love song to emptiness, futility and hopelessness)
Chapter 1: the desert
On this desert of words ghost ships ply their course through pages full of emptiness. A vast expanse of possibility going nowhere, nightly they capsize into the sands. Plunging through the granular depths to collide with the bottom, they bury their bows with a Bismarckian fury. Sliding down the tractless sides of extinct volcanos they are then pitched back up the opposite side of other mountainous formations. Yet again surfacing amidst a deathly moonlight. As they shrug the dust from their decks and armour belts, opening their holds to capture the hollow moonlight, the hatred of words and history crash forth from their guns with the dull ringing sound of a foul church bell. In this sunless desert the numbing tinnitial roar of a bone dry nightmare of progress never ceases pulsing, a stoney and ceaseless heart beat, its reverberation never allows the sun to fully rise. The pathetic rays of a dying star, cold and wan, it dreams of expanding and swallowing all that surrounds it…..only to collapse in on itself. One can only hope for pure darkness, an end to all beginnings. A crushing of everything into nothingness, a deserved reward for rank failure.

Even more possibilities ~
As usual, given my tendency to work on a number of different pieces, concepts and bodies of work simultaneously my meandering approach to studio production of my glass boxes also yielded a few odd but very intriguing "one off" works that have much potential for other projects in the future. These works utilizing the glass plate positive slides developed into a recombination of the glass plate artifacts and the creation of new re-imagined objects. In one case the slides are combined to create an impossible camera, and in the other they form a reliquary of sorts of other found objects. Below are a few closeup examples of these works and a brief video.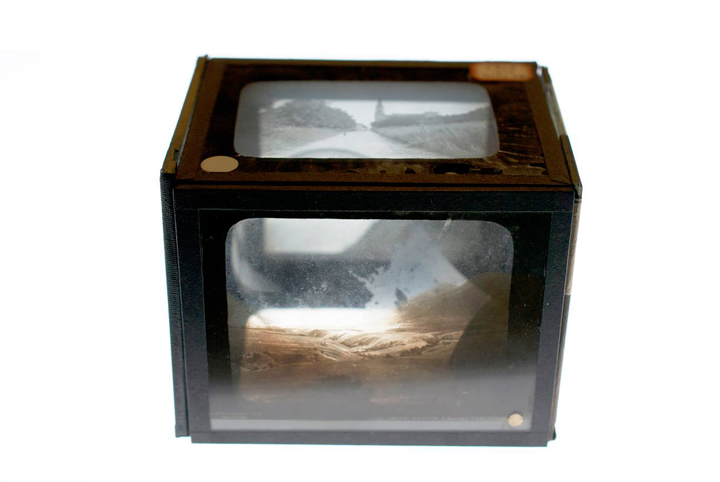 Click on the image below to view a brief video showing the second of the two glass plate positive slide experimentations.
© 2001 Aureole Studios. All rights reserved. No images or information may be reproduced, transmitted or copied.