>RECENT NEWS......As of NOW May 22, 2018....2:57
The sound of news...in response to Derek Beaulieu's call for sound responses to his recent erasure book a, A Novel I created a translation/response to his book which extended from a .gif animation I created of the first 10 pages of the book (view the .gif HERE). The raw code language of the .gif was loaded into sound processing software which "read" the code of the .gif file and generated a sound translation of the .gif animation. I then shared this file with Gary Barwin who created a re-mixed/processed version of the file, which I then in turn mashed up further re-combining his remix with the raw code track. The two responses can be listened to by clicking on the links below:
a, A: the texture of code.
For Derek Beaulieu
Pages 1 > 10.
Click HERE to listen to the raw code.
a, A: the textures of code.
For Derek Beaulieu
Pages 1 > 10.
Click HERE to listen to the re-mixed version by Gary Barwin and myself.
_____________________________________
.... April 4, 2018.... 9:55 pm.
>RECENT NEWS......
Much news of late, including a couple of exhibtions as well as a recent publication:
Still visual poetry excerpts from my recent .gif animation "Who Decides the Land is Sacred?" were selected by Professor Catherine Parayre in the Brock University on-line publication ti<. The works along with a project statement are viewable by clicking HERE. Click HERE to view the .gif animation.
_____________________________________
A collaborative project with poet Gregory Betts titled "Signs of our Discontent: The Textures of Our Solitude" will be exhibited as part of the Kanada Koncrete: Material Poetries in the Digital Age conference at the UNIVERSITY OF OTTAWA. Click HERE for more information on this event.
"Signs of our Discontent" was also selected for presentation in the IN THE SOIL ARTS FESTIVAL. April 27 > 29  St. Catharines, ON. Click HERE for information on this event.
_____________________________________
Three of my 2010 drawings will be on view in two different locations. Two will be on view for two years (and are now installed) on the main hallway (ground floor) of the Marilyn I. Walker School of Fine & Performing Arts (I call it Marilyn's Gift) just down the hall from a major tapestry by the amazing woman our school is named for. The third will be on view at the Art Gallery of Hamilton as part of the annual AGH Art Sale April 12 to 15. If you are in downtown St. Kitts or Hamilton drop by and say hi to them. Fun fact: the one in the Hammer is for sale. Click HERE for more information on the AGH sale, and HERE to view the work in question (Coming Through Darkness. 2010).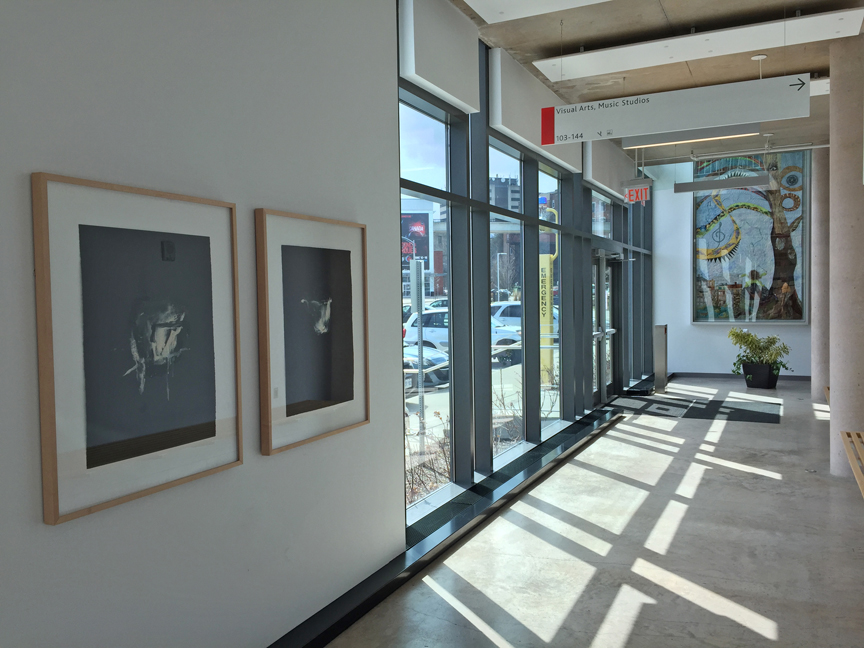 View of works installed at the Marilyn I. Walker School of Fine & Performing Arts.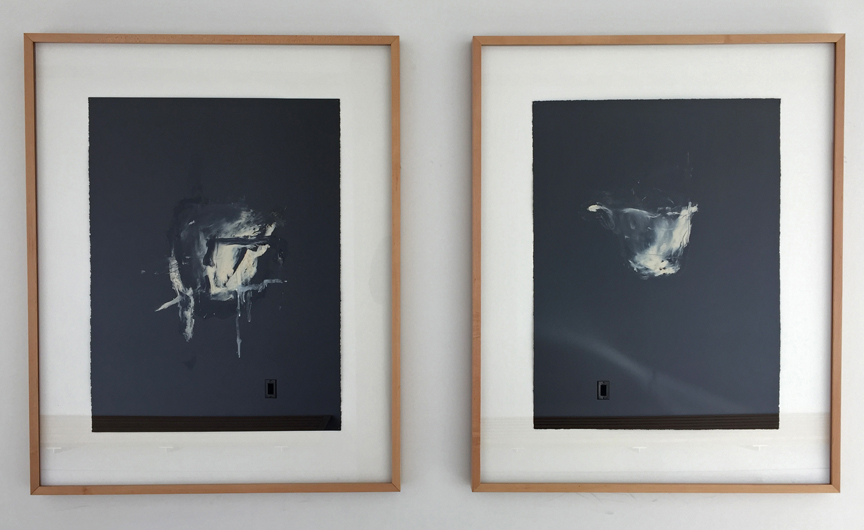 Left:
On Black. 2010
Oilstick, graphite on paper.
Click HERE to view the work.
Right:
Reflection on Black. 2010
Oilstick, graphite on paper.
Click HERE to view the work.
_____________________________________
>PAST NEWS ITEMS......
>EXHIBITION a new work on plaster and panel was selected for exhibit in the 2016 Biannual Juried Exhibition at the Grimsby Public Art Gallery.
2016 Biannual Juried Exhibition
August 6 > September 11
Opening Reception: Friday, August 5. 7:00pm
Grimsby Public Art Gallery
18 Carnegie Lane, Grimsby

>Exhibition Catalogue published<
The exhibition catalogue for my recent exhibition with Duncan MacDonald titled Parallax has just come back from the printers. It features two wonderful essays, one by Julia Polyck O'Neill and the other by Emma German. Julia was one of my colleagues in my final year of grad studies at Brock who is now working on her Phd at Brock, and Emma was one of my students at Brock who is entering the Masters program at York this September. Julia and Emma are two bright and thoughtful young writers whose essays explore the work in Parallax from two unique perspectives that I know you will find interesting. Click HERE to download a digital copy of the catalogue.
>Exhibit closing soon.
Its difficult to believe that the Parallax exhibition with Duncan MacDonald is drawing to a close this week. The sum of 7 years of thinking and working all condensed down to a 2 month show and now it is exhibit strike time this coming Monday. I'd like to thank Rhona Wenger and her wonderful staff for all their hard work, the Ontario Arts Council for their grant support and my colleague Duncan MacDonald.
>Exhibit A: PARALLAX<
It seems like it was just a few months back that the Director of the Grimsby Public Art Gallery Rhona Wenger had visited an exhibit of my work that I was particularly excited about mounted at the Sean O'Sullivan Theatre Lobby. Our conversation was lively and our talk turned to how I was interested in putting together a show at some point in the future at the GPAG but that I'd ideally like to work with another artist. Rhona immediately suggested Duncan MacDonald and the rest is history.
Shoot forward 4.5 years and our two-person exhibition titled Parallax launches in February 2015 and features a wealth of new works by both of us. Please click HERE to review some more detailed information about the exhibition on my gallery page. Another aspect of the project I'm particularly excited about is that the exhibition publication will feature essays written by Brock Phd. Candidate Julia Polyck-O'Neill and Brock Visa Graduate Emma German.
PARALLAX
Reception: Sunday February 8, 2pm to 4pm
February 7 to March 22
Grimsby Public Art Gallery
18 Carnegie Lane
Grimsby, ON.
Exhibit B: PRESENCIA
While working on the Parallax show I developed a concept for my first video work. Stemming from the works, processes and materials I was working with at the time, this work also yielded a second version which I will be screening on the Digital Art Wall in the Matheson Learning Commons in the James A. Gibson Library at Brock University.
This work is a short video meditation on the mystery and poetics of photography. An archaeological rumination on the thematic and subjective choices on the part of the photographer, it also reflects on the nature of perception and how we absorb or read these artifacts of presence. Presencia is also a video-poem that invites the viewer to ponder the function and magic of time and the senses.
PRESENCIA
Matheson Learning Commons,
James A. Gibson Library
Brock University
500 Glenridge Ave
St. Catharines, ON.

>Master's studies complete<
It is now official. As of October 19th, at Brock University's Fall Convocation I will have earned my Master's degree. My area of study was Studies of Comparative Literature, and the part-time project was a four year journey. My graduating project (an undefended Thesis designated as a Major Research Project) was a comparative study of the work of Canadian conceptual poet derek beaulieu and American conceptual painter Ed Ruscha, their works were analyzed via the theoretical writings of French author and theorist Maurice Blanchot and the American Art Critic & Theorist Rosalind E. Krauss. Many thanks go to my Project Advisor and First Reader Dr. Gregory Betts, and my Second Reader Dr. Leslie Boldt whose patience, erudite guidance, good humor and wisdom guided me through the final project. Additional thanks also to Brock professors Natalie Alvarez, Corrado Federici, Derek Knight, Catharine Parayre, Erica Reiman and Robin Whittaker, it was a laborious and pain-staking process and your brilliant guidance kept me pointed to true north all along the way, cheers to you all!
>Work to be published in online journal ti<
A recent hybrid digital work employing a found photograph and text was selected for publication in the Brock University online journal ti<. The issue is titled Braille/Babble (publication of the issue is set for mid May 2013) and is centred around the visceral nature of language and the point of intersection between it and the visual. Through the juxtaposition of image and text, elements which threaten to cancel each other out, my project probes the limits of textual and image representation. Through the conflation of image with text (or text with image?) one wonders if there is any structure, or merely a visual space for the viewer/reader to contemplate the collision therein. The piece features a sequential alphabet overlay which obscures a piece of free verse written a few years back:
I sought words, haltingly, in order to describe the night but their slippery surfaces resisted my touch. Through them I hoped to trace the past and somehow feel the grain of time. Strange how the night gives me a sense of emptiness and fullness at the same time. Are these words as barren as I feel, as full?
Click HERE to visit the journal, or click HERE to view a full resolution version of this image. Be patient, it is a big file.
Impossibility.
1914 to 2013
Text, photoshopped digital photograph.
Output size 12" high x 16" wide 300dpi
This work will also be exhibited at Rodman Hall Art Center in St. Catharines, 12 to 14 April 2013.
© 2001 Aureole Studios. All rights reserved. No images or information may be reproduced, transmitted or copied.